Itasca Automation Systems
Itasca programmable machines are used for winding sensors, motors, rotors and stators, transformers, solenoids, ballasts used in many electronic devices.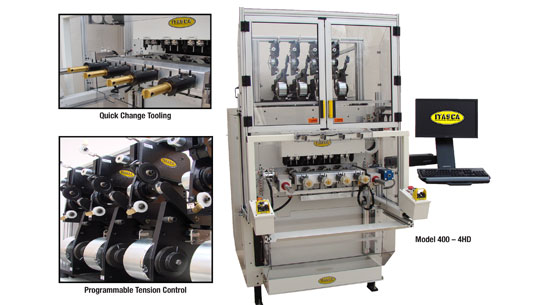 Model 100XD Programmable Coil Winder
The Itasca Systems, Inc. Model 100XD Programmable Coil Winder is perfect for companies requiring quick change over, program storage for multiple programs, job shops running multiple varieties of coils, or labs developing new coil prototypes.
Model 400-4HD Multi-Spindle Coil Winder 4 Spindles with rotating tail stock
This design incorporated our existing 400-4 spindle coil winder with rotating tailstock. Heavy duty spindles, brushless drives on all axis. Winding 25Awg.-14 Awg.
Heavy Duty Design
Itasca Systems, Inc.'s robust version of our standard 4 spindle is used in the lighting industry for Regent Lighting winding ballasts. Here is a detail of the heavy-duty mechanism.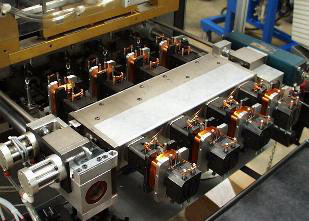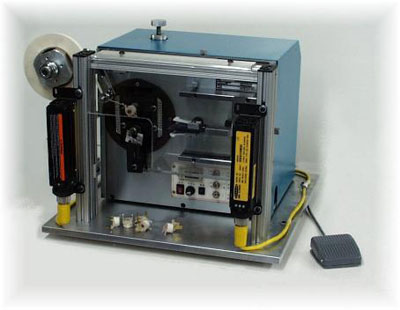 KFT-2 Coil Taping Machine
Can tape coils with maximum diameter of 2 ¼" (57 mm) depending upon bobbin design and terminal arrangement.
Can tape coils with maximum width of 2 ½" (63 mm) depending upon bobbin design and terminal arrangement
Manual mode for setting up and proving initial taping
Auto mode once correct set up is established
Operator loads bobbin or coil manually to arbor and presses two palm buttons.
Comprehensive guarding along with the palm buttons provides for the utmost safety operation.
Can tape between 1 and 10 turns of tape in ½ turn increments, set by easy counter switch
Diamond Thermocompression Bonding® (DTHB)
Bonding hyper-fine wire from 10 μm (0.0004″)
Low temperature range system, between 752° to 1112° F
No damage to bonded components
No premature heat aging of components
No Flux / Solder
Only a fraction of a second for a 10 μm (0.0004″) copper wire connection
Life cycle over 1 million bonds !
Superior repeatability and stability compared to other Thermod Processes